T. Trondsen and Sato K.
"The Japanese Betrayal"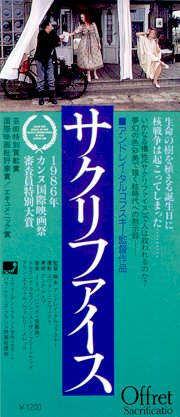 Japan is second to none as far as appreciation of Tarkovsky's work is concerned, a fact borne out by their effective distribution of his movies up through the years, their frequent retrospectives with original, lovingly prepared multipage programme booklets, tasteful marketing graphics, and the publication of lavishly illustrated photobooks — even a book meticulously reproducing the personal working diaries that Tarkovsky kept during the making of Mirror. There was until recently an active Andrei Tarkovsky Society of Japan, with its own periodical. Kurosawa Akira himself was an ardent supporter and fan of Andrei Tarkovsky. Modern filmmakers such as Oshii Mamoru claim to have drawn much inspiration from Tarkovsky, and even in a certain popular Takashi Miike film we find a brief Tarkovsky reference, the kind of reference practically unheard of in movies produced in the West. We should also mention Manga artist Osamu Tezuka, who was an eager student of Tarkovsky's films. Well known as a cinephile, he drew his manga in a highly cinematic fashion, based on his close study of many foreign movies. His interest in Andrei Tarkovsky was so intense that he even wrote and published articles on the topics of Solaris and Stalker. (Though his Solaris piece is mainly devoted to Lem, his Stalker article deals with Tarkovsky's particular dramaturgy and composition.)

It therefore left us quite baffled when we read in Layla Alexander's memoirs as follows (emphasis is ours):
[...] I think Andrey began to trust me fully when we, towards the end of the preparatory period, received the news that the film [The Sacrifice], in all probability, was not going to go through as planned. The Japanese co-producers had, for some totally incomprehensible reason, suddenly refused to take part in the financing of the film. We were all in the doldrums, as this would in practice mean that the film would be delayed for some time and that it was time for us to "clear out." Andrey sat at the table tearing a sheet of paper to shreds. He did this in a state of inner paralysis. Twice I saw him in a similar state: this time, after receiving the news that the Japanese had let us down and the other time after the fiasco with the scene where the house is burnt down [...].
See also Tarkovsky's Diary entry of September 22, 1984.

Nostalghia.com correspondent Sato Kimitoshi of Japan was an invited speaker at the December 6–8, 2002 international Tarkovsky Symposium at Athens, Greece. During this time, he had several informal conversations with Anna-Lena Wibom of the Swedish Film Institute, producer of The Sacrifice, who also attended the symposium. We asked Sato san to unearth some of the facts behind the "Japanese Betrayal" (as we had referred to it as in the past, in our correspondence). The following, which is based on information gleaned from these conversations between Anna-Lena and Sato san, may shed some light on the issue.


Andrei Tarkovsky's film Nostalghia was screened in Japan at theatres connected to the Seibu Group. The film was a huge success, both commercially as well as artistically. For example, Takemitsu Toru praised Nostalghia very highly. Tarkovsky's next film was therefore to be financed in part by Seibu, or, to be more accurate, by a branch of Seibu known as Cine Saison, the Group's branch which is responsible for arts & entertainment in general. (The Saison Cultural Foundation was co-sponsor of Peter Brooke's Cherry Orchard tour to Japan when Erland Josephson came to Japan via Russia in 1989.)

Much to everybody's surprise, Seibu suddenly backed out of the deal, refusing to help finance The Sacrifice.

Why?

Some facts are known: The Seibu Group has traditionally enjoyed a rather cozy relationship with some of the major Russian museums, and has thus been able to stage some rather remarkable exhibits within Japan over the years. (This fragment of a large retrospective poster commemorates their Russian Art exhibit and their Kurosawa Kagemusha exhibit.) As is well-known, Tarkovsky was in trouble with Soviet authorities at the time of shooting The Sacrifice. This fact appears to be the main reason behind Seibu's suddenly pulling out of the project. Seibu feared (for whatever reason) that if they kept on supporting Tarkovsky's new film, their relationship with the Russian arts and culture establishment, which had been built up over a long period of time and had involved a lot of hard work, might rapidly deteriorate. For Seibu, its relationship with Russia apparently carried more weight than its relationship with Tarkovsky. The two Seibu people involved in negotiations were one Mr Yamada, and one Mr Kinokuni, the latter being the Seibu Cultural Programme Director. (Anna-Lena Wibom quickly whipped up this sketch for us, depicting the two Gentlemen). Ms. Wibom at the time tried to convince them that Seibu had nothing to fear. (History proves her right, of course: Tarkovsky's fame remains, Soviet Russia is long-since gone.) She warned Yamada san in very strong terms, using the words "You will be sorry..."


As we know, Andrei was too ill to go to Cannes and young Andrei Jr had to replace him. Anna-Lena accompanied him on the trip. The screening took place in the morning, but it was extremely well attended. After the film, there was a standing ovation by a deeply affected audience, several attendees weeping. The audience recognized that this was a remarkable work and that its director would never be able to make another film...
Immediately after the screening, Kawakita Kazuko approaches Anna-Lena. The Kawakitas is a legendary family in Japan, a family whose life has been devoted to making Japanese film known to the outside world. For instance, if one is able to see Mizoguchi, Ozu, and Ichikawa in Sweden, it simply means that the Kawakitas have successfully managed to introduce these to the Swedish Film Institute. (Kawakita Kashiko, mother of Kazuko, stood by Kurosawa's side when his Rashomon was awarded at Venice Festival.)
A deeply moved Kawakita san expresses to Anna-Lena her wish to buy the film. Anna-Lena, without hesitation, responds with: "Deal!"
Then, shortly afterwards, Yamada san shows up and politely states his case: that he actually now wishes to buy the film after all. "But, it is already sold," exclaims Anna-Lena. Yamada san appears totally and absolutely stunned. Whereupon Anna-Lena quips something to the effect of, "I already warned you that you would be sorry, that you would be terribly sorry."
Yamada san subsequently fires two of his men over the matter, as is the traditional Japanese way of dealing with embarrassing situations such as these. Anna-Lena still insists that Yamada san alone was to blame for the fiasco, however.
The Sacrifice went on to become a "significant commercial hit" in Japan — what other country can claim such a feat? None that we are aware... — and Anna-Lena received an award from a Japanese magazine [reference?].